The Comstock, the Net & You
a guest contribution
by Joel Hunter Crook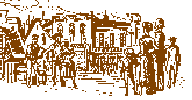 "Every Town Is A Small Town"
Crown Jewel of the Comstock
by Suzanne NeeleyMore in the small town series
Cashing in on the Bad Chips
Murder and a literary crime
both by Augustus Frobisher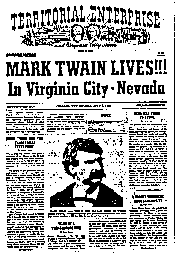 The Territorial Enterprise has a proud tradition of great writers and has published many "guest" stories over the years. In honor of this tradition, the editor accepts articles submitted by published or emerging writers. Email for writer's guidelines and future contest details.

Coming Soon!
"Write in the Twain Style" Contests

New!
A poem by Joe Goodman: The Stage-Driver's Story, previously thought to have been by Bret Harte, is now correctly posted to its rightful owner. Goodman was the editor/publisher of the TE who hired Mark Twain, then known as Josh. Another poem by Goodman has surfaced which he wrote after leaving Virginia City. It proves that Goodman may have left the town, but the town never left him.
History re-Newed!
Historical Gazette editor, and webmistress for this web site, Bridget E. Smith, reviews Butruille's Women's Voices series. Catch the author's one-woman show portraying Marie Pantalon. An updated schedule is posted.

Bret Harte, actually a "ghost writer" as he was a contemporary of Mark Twain, knew Twain in San Francisco. Harte encouraged Twain to submit his work to the Californian magazine. Later, Twain wrote, "Bret Harte trimmed and trained and schooled me patiently until he changed me from an awkward utterer of coarse grotesquenesses to a writer of paragraphs and chapters that have found a certain favor." With that in mind, an item we found: Bret Harte uses his crafty writing skills to describe the chilling cold winter in Snow in the High Sierras [sic]. Harte originally hailed from back East and the thought is that he didn't know that Sierra doesn't have an 's' on the end.